Voting Conservative not the solution
From Mick Piggott
Sunday, 11 April 2010
Just in case the Tories want to make capital out of opposition to the New Labour candidate S. Booth, I'd like to point out the following:
Under the New Labour government, top pay in the private sector has risen from 47 to 81 times average pay. This is of course unforgivable when there is such real poverty in the country.
However, Cameron's 68 captains of industry who are whining about the proposed tiny NI increase are of course on huge incomes. For instance, the NI increase would cost Marks & Spencer £10 million. Their new boss's 'golden hello' bonus is £15 m.
Yet Cameron proposes only to cap top pay in the public sector at 20 times the lowest pay. Only 100 people in the public sector will be affected. The obscene profits of the bosses will remain untouched. The rest of us will pay for them. Never forget what Toryism is all about! We might have an appalling 'Labour' candidate, but the answer is not to vote Conservative!
The Conservatives are not part of the solution - they are part of the problem!
---
Update from Mick Piggott
Tuesday, 13 April 2010
I'd like to add a few more facts about the pay of bosses in the private sector:
Matt Emmens, Shire Pharmaceuticals, £10m
Mick Davis, Xstrata, £27m
David Brennan, Astra Zeneca, £5m p.a.
Bart Brecht, Reckitt Benckiser, £92m! - Yes, £92m, after cashing in his share options.
Frank Chapman, BG, £28m.
These figures are given in just the one issue (the latest) of the Business liftout from the Sunday Times. These figures represent the tip of the iceberg. The tax paid on these huge sums is minimal and often non-existent.
The three main parties tell us Britain is in debt, and that public services must be cut. Quite simply, they lie. There is enormous wealth in the hands of a very small minority of people. If they were made to pay their fair share of taxes there would be no problem. Say, 99% on all income above £250,000 p.a.? Does anyone think that a quarter of a million a year is not enough to live on?
Most of us, and certainly the society in which we live, will be impoverished in order to allow these parasites to keep their obscene wealth. This is a Tory philosophy: one which is shared by New Labour and the Lib Dems. Would Steph Booth deny this?
---
Grimmer Upnorth - Left Labour
Chris McCafferty MP, Calder Valley (TheyWorkForYou.com)
Steph Booth for Calder Valley blog
---
YouTube videos
Craig Whittaker - Conservative
---
Previous general elections
2005 Result: Labour maj 1367
turnout 67%
Liz Truss, Conservative
17059
38.6%
Paul Palmer, Green Party
1371


Christine McCafferty, Labour
18426
35.7%
Liz Ingleton, Liberal Democrat
9027
18.9%
John Gregory, BNP
1887


More details of Calder Valley Election Results 1983-2005
Calder Valley Election Forum 2001
Candidates
Photographed at the debate at Hipperholme and Lightcliffe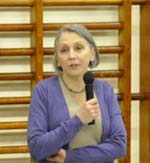 Steph Booth - Labour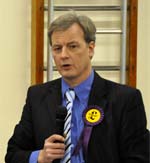 Greg Burrows - UKIP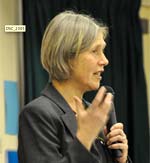 Hilary Myers - Lib-Dem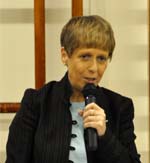 Kate Sweeny - Green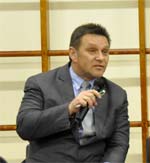 Craig Whittaker - Conservative
List of all nine Calder Valley candiates for the General Election
Election Debates
Gareth Binding
Sunday, 21 March 2010
Graham Barker
Tuesday, 23 February 2010
Kate Sweeny
Monday, 22 February 2010
Chris O'Connor
Sunday, 21 February 2010
Marcus Bull
Sunday, 21 February 2010
Chris O'Connor
Tuesday, 16 February 2010
Kevin Duffy
Monday, 15 February 2010
Kate Sweeny
Sunday, 14 February 2010
Kevin Duffy
Sunday, 14 February 2010
Kate Sweeny
Saturday, 13 February 2010
Tory Housing Policy?
Pete K
Sunday, 7 February 2010
Steph Booth
John Greenwood
Sunday, 7 February 2010
Jason Elliott
Friday, 5 February 2010
Rev Tony Buglass
Friday, 5 February 2010
Larry Kin
Thursday, 4 February 2010
Susan Quick
Thursday, 4 February 2010
Steph Booth at the Tribunal
Stitch C
Thursday, 21 January 2010
Ron Taylor
Wednesday, 20 January 2010
Labour to send Craig to Westminster
Graham Barker
Sunday, 27 September 2009
John Greenwood
Sunday, 27 September 2009
Mark Fisher
Sunday, 27 September 2009
John Greenwood
Saturday, 26 September 2009
Rev Tony Buglass
Friday, 25 September 2009
Graham Barker
Wednesday, 23 September 2009
John Greenwood
Wednesday, 23 September 2009
Holly Owen
Sunday, 13 September 2009
Ron Taylor
Sunday, 23 August 2009
Ron Taylor
Monday, 24 August 2009
Graham Barker
Friday, 21 August 2009
Ron Taylor
Tuesday, 18 August 2009
Holly Owen
Monday, 17 August 2009
Election debate now cancelled
Jason Elliott
Thursday, 21 January 2010
Margaret Boyle
Wednesday, 20 January 2010
Kate Sweeny
Friday, 15 January 2010
John Rhodes
Friday, 15 January 2010
Jacob Jones
Friday, 15 January 2010
Graham Barker
Friday, 15 January 2010
Ian Appleby
Thursday, 14 January 2010
Anne H
Thursday, 14 January 2010
Cllr Janet Battye
Wednesday, 13 January 2010
Jason Elliott
Wednesday, 13 January 2010
Chris Reason
Wednesday, 13 January 2010
Sue Mee
Tuesday, 12 January 2010
Steph Booth v Cool UK Tribunal
Dave Boardman
Wednesday, 24 March 2010
Ron Taylor
Friday, 19 March 2010
Graham Barker
Thursday, 4 March 2010
Sarah B
Thursday, 4 March 2010
Mark Jackson
Thursday, 4 March 2010
Sarah B
Thursday, 4 March 2010
Gareth Binding
Wednesday, 3 March 2010
Political Exclusion Zone
Rev Robert (Robbie) Bowen
Wednesday, 17 March 2010
Kate Sweeny
Wednesday, 17 March 2010
Jason Elliott
Wednesday, 17 March 2010
More bad publicity for controversial Labour candidate
Tom Standfield
Thursday, 10 December 2009
Andy W
Thursday, 10 December 2009
Getting Into Parliament
Ron Taylor
Saturday, 28 November 2009
Sue Mee
Friday, 27 November 2009
Freddie Fielden
Thursday, 26 November 2009
Graham Barker
Wednesday, 25 November 2009
Ron Taylor
Wednesday, 25 November 2009
Matt Black
Tuesday, 24 November 2009
Ron Taylor
Sunday, 22 November 2009
Tim Swift
Sunday, 22 November 2009
Cameron's Tories: not liberal, not progressive, and not fit for government?
Joanna Beacroft-Mitchell
Thursday, 8 October 2009
N Yorke
Thursday, 8 October 2009
Coun Susan Press
Monday, 5 October 2009
Tom Standfield
Monday, 5 October 2009
Andy M
Monday, 5 October 2009
Colin Fisher
Saturday, 3 October 2009 updated
Graham Barker
Saturday, 3 October 2009
Cllr. Nader Fekri
Friday, 2 October 2009
Can Labour Survive?
Philip Giligan
Sunday, 27 September 2009